Description
The Bait Caddy's lid conveniently doubles as a cutting surface. All internal parts are food-grade, dishwasher safe, and easy-to-clean. Whether you're fishing freshwater or saltwater, the Bait Caddy helps you spend more time fishing and less time messing around with bait. It's the perfect fishing gift.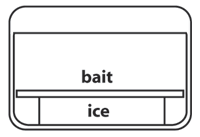 Suspended surface keeps ice from contacting bait, so the bait stays fresh and dry.
Swing-up carry handle
Lid Doubles as a cutting surface
Stays colder longer with the TechniTM Ice Pack
Available with and without gunnel attachment.